Gift data
Gifts to CHME have been on the rise since 2009, but in 2017 CHME alumni and supporters stepped it up.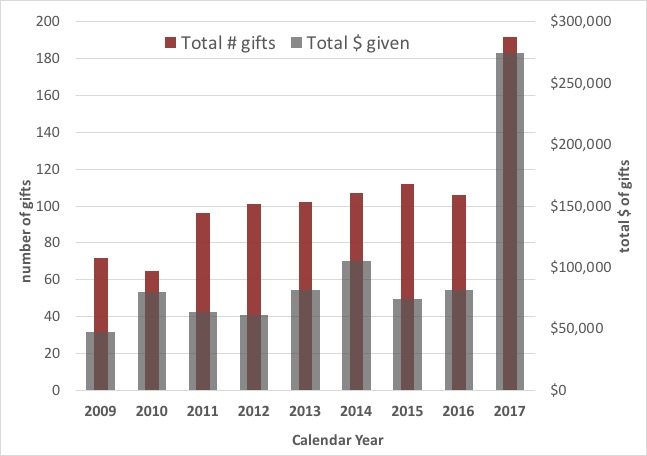 Jett Hall Naming Opportunities
JH 259 has been NAMED!  This classroom is now the Bob & Gwen Watkins Connected Learning Classroom.  Our thanks to Bob and Gwen for their gift that made the use of Adobe Connect in CHME possible.
Jett Hall East Wing 100-Level
East Wing Laboratory – 2nd floor (JH 289): $75,000 per research bench
Construction of 12 research benches with each bench to include 2 or 4 fume hoods at each bench, full service utilities (DI water, gas,electricity, compressed air, and vacuum), chemical storage, and bench top space.  Adjacent to the 12 research benches will be counter sinks (est. 10 – 12).  This space will simultaneously accommodate 36 laboratory researchers.
CHME Undergraduate Commons (JH 178): $250,000
This new space in CHME will provide undergraduate students in the major with a gathering point.  It will be approximately 1600 sqft in area and will be used by students for individual and group studies, taking a break between classes, or storing their belongings while in class.  The area will accommodate around 80 students, and will include the Shires Library, personal storage lockers, tables w/ chairs, and a kitchenette.
CHME backpack lockers: $500 per locker
Help CHME students secure their belongs while in Jett Hall.  The Commons will have 34′ of locker space.  Lockers are $500, with payments spread over up to five years.  CHME would like to install 108 total backpack lockers in the commons. These locker units are built to accommodate wiring for charging, so student devices are always ready to go.  Click on the "donate" images on this page and write "CHME lockers" in the comments section of the form.
The CHME Undergraduate teaching lab (often referred to as the Unit Operations Lab) is located on the first floor of the east wing of Jett Hall, in the southern most end of the wing.  The lab houses the hardware used by undergraduate students to observe, measure, and analyze phenomena of interest in chemical engineering.   Western Refining recently provided $20K that permitted this area to be expanded, painted, and new flooring to be installed.  It also houses the materials lift that permits CHME to safely transport research chemicals and compressed gas cylinders to the research labs on second floor.
Safety Station/Decontamination Area (at JH 289 entrance):  $10,000 & $300 monthly for restocking
A centralized location for storage and distribution of laboratory Personal Protective Equipment (PPE) will be constructed near the entrance to JH 289.  This station will hold safety glasses, face shields, gloves (latex, butyl rubber, nitrile, thermal resistant), lab coats/aprons (cloth, Tyvek, butyl rubber, Nomex), respirators and particle masks, chemical bottle totes, and other PPE relevant to ongoing operations in the lab.
CHME Main Office (JH 268):  $100,000
Floor plan being revised to accommodate more efficient work flow
modern office furnishings
reception area and work stations
updated filing and storage space

Undergraduate Computer Cluster (JH 177):  $125,000
This room houses the 30+ computers used exclusively by CHME undergraduate students.  Here students will gain access to the Aspen Plus® simulation software and other softwares critical to their success in the program.
Graduate Student Computer Cluster (JH 159):  $75,000
The graduate student computer cluster is located in the commons area to the grad student office suites.  Here grad students will find 8-12 computers loaded with software to permit them to analyze data, prepare presentations, and author their thesis/dissertations.
CHME Conference Room (JH 274):  $100,000
The CHME conference room is being relocated to the 200-level closer to the CHME main office and faculty offices.
Laser Research Room (JH 286):  $75,000
A lab dedicated to laser research (primarily Dr. Houston's flow cytometry work) will be included in the lab renovation.
Equipment Storage Room (JH 290):  $25,000
Everybody needs a place to store their stuff, CHME is no exception.  For years, CHME stored items in a storage unit on south campus.  Needless today, once an item was placed in a location that far away, it went away forever.  In 2012 the storage unit was the target of thieves.  Lab Manger Meng Zhou rushed to the location to perform an inventory of what was stolen (which took him two days), only to find that nothing was taken (yes, the contents were that valuable).  This storage unit was emptied and the contents were reallocated (as scrap metal mostly), and the department ceased paying the monthly rent on this unit.  CHME will now maintain a small storage area right in the research wing for valuable items that may have a near-term use.
Analytical Equipment Room (JH 280):  $60,000
The CHME analytical capabilities will be consolidated into a single analytical laboratory.  This area will provide students with a wide range of chemical and materials analysis tools.  Donation of usable analytical equipment will also be considered.
Microscope Room (JH 288):  $25,000
Much of the CHME research requires visual characterization.  To that end, some of the researchers in CHME have acquired microscopy equipment.  These units will be kept in a common location, a room dedicated to microscopy.
BSL-2 Room (JH 284):  $25,000
The ongoing biological research requires access to a BSL-2 clean room.  Dr. Houston had fashioned such a facility out of a janitor's closet in the 100-level of Jett Hall.  After the renovation, there will be a dedicated BSL-2 room on the 200-level where all research will be housed.
Lab Manager's Office (JH 295):  $50,000
The CHME Lab Manager will now occupy a portion of the area formerly tagged as JH 271.  The materials lift will bring chemicals shipments directly into his office for inventory prior to distribution to the research placing the order.  The manager's office will also look out across the open lab to permit monitoring of activities within the lab.
Pyrophoric Lab (JH 292):  $100,000
Pyrophoric chemicals require special handling and storage.  This lab will segregate these acute hazards from other chemicals.
Hazardous Chemicals Lab (JH 278):  $100,000
The most dangerous chemical and materials will be segregated into a separate lab for added security.  Limited access will be granted to this lab on an as-needed basis.
Autoclave/Glassware Lab (JH 282):  $25,000
A centralized facility for cleaning glassware (with a laboratory dishwasher) and an autoclave (not a walk-in version like we used to have) will be housed in this area.
CHME Endowed Chair – $1,000,000
any contribution to this growing endowment is appreciated