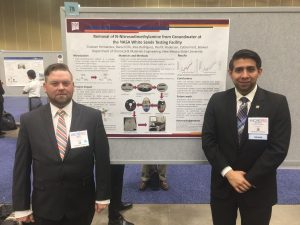 Undergraduates are encouraged to participate in research in CHME.  Finding a research project requires a student take the initiative.  It involves reviewing ongoing CHME faculty research endeavors, interviewing the faculty having projects of interest to you, then working with that faculty in defining a contribution you can make to one of these projects that will feasibly fit into your academic calendar.
In parallel with the search for a project, students are encouraged to complete the required safety training courses offered through NMSU Environmental Health Safety & Risk Management.
Projects may be completed for credit using the CHME 498 Undergraduate Research course, may be a paid position through grant funding, or may be performed voluntarily for the experience.
Faculty who have projects for which they seek staffing can be found in the "available" list in the right menu bar.  You can review in-progress and completed projects at the links below also.