Brewery Engineering Program

in CHME @ NMSU
The New Mexico State University Department of Chemical & Materials Engineering is developing a comprehensive program to prepare students for careers across the brewing industry, and with which to provide research and analytical services to the industry.  The program includes (i) a minor of study education program in chemical engineering; (ii) a dual-fermenter 1-barrel stainless steel brewery providing hands-on training in brewery operations; (iii) a full-service beer characterization analytical laboratory; (iv) summer training workshops; (v) international brewery studies; and (vi) an industry pipeline of highly-trained student interns and permanent employees.
Brewery Engineering Education

in CHME @ NMSU
The Brewery Engineering minor-of-study described at the CHME website above first appeared 2017-2018 NMSU Catalog.  The minor is an 18-credit hour program that builds on the rigorous 136-credit hour education required to earn a Bachelor's of Science in Chemical Engineering (BSCHE), collectively representing an extensive 154-credit hour education, thereby representing one of the most challenging degree paths an academic institution has to offer.  Students who complete this program are as qualified to operate a brewery as they are to manage the country's plutonium supply, design and start-up an oil refinery or a drilling/fracking operation, develop new computer chip materials, or attend medical or law schools.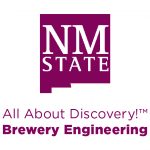 The brewing capstone (CHME 495. Brewery Science & Engineering) contains rigorous content of all three MBAA/ASBC-suggested capstone courses: brewing science; brewing analysis and quality assurance; and practical malting and brewing.  It is taught by faculty with backgrounds that include brewing science and chemistry, agricultural and bio-materials, engineering economic analysis, process simulation, and commercial plant design, construction, and operations.  This course has the previous seven semesters of BSCHE coursework as prerequisite, and thus will be rigorous and include a complete design and economic evaluation of a brewery and require a clear understanding of batch-wise operations and economies of scale.  MBAA states, "It is essential that the courses encompass a mix of lecture and practical classes, with student access to hands-on brewing and analytical work in an operational small-scale brewing system." 
In addition to this design course, students pursuing the minor will study microbiology, biochemistry, and food science/engineering, where the BSCHE requires inorganic chemistry, organic chemistry, physical chemistry, physics, and biology.  Students also complete calculus (3 semesters), differential equations, and numerical methods of analysis, providing them a tool set for modeling and design of complex processes and phenomena. 
These fundamental topics are prerequisite to many of the core courses in the chemical engineering curriculum where students develop expertise in process design, analysis, and simulation through a study of the continuity equations, thermodynamics, transport phenomena, the design of "unit operations" of many types relevant to a chemical process (which includes food processing), engineering economics, process safety, and process dynamics and control.
---
Seidel Brewery Engineering Pilot Plant

in CHME @ NMSU
The design of the Seidel Brewery Pilot Plant was prepared by a team of four 2016 alumni as their CHME 455 Plant Design capstone course project.  Equipment for this process has been sized, specified, ordered and received, and is on-site waiting on the completion of the 2-year Jett Hall building renovation.  A location specific for this pilot plant has been prepared in the CHME pilot bay area of Jett Hall.  Continued design, planning, and installation work is being performed by a team that includes CHME faculty, CHME students (grad and undergrad), safety specialists, and brewing industry consultants.
This facility includes the following major pieces of equipment (mostly manufactured by Stout):
45 gal Brew Kettle

40 gal Conical Fermenter (2)


55 gal Mash Tun

40 gal Hot Liquor Tank

80 gal Hot Liquor Tank

1 BBL Brite Tank 2 bar

Thermaline T4-21 wort chiller

Schmidt-Bretten Plate Heat Exchanger

Glycol Chiller 125′ 3/8 HP 7 gal

keg filling manifold

bottle/can filling stations

   
---
NMSBrew Analysis Laboratory

 

in CHME @ NMSU
The NMSBrew Analysis Laboratory includes capabilities for characterizing brews by AOAC Official Methods of Analysis.  The centerpiece of this laboratory is a fully-optioned Anton Paar PBA-B Generation M Packaged Beverage Analyzer for Beer.  Other capabilities being procured include:
Digital microscope

UV/Vis Spectrophotometer

Centrifuges

Sample Refrigerator

Commercial Vacuum Sealer
NMSBrew will also have the analytical resources of NMSU available at internal cost, including such resources as the Freeport-McMoran Water Quality Laboratory, where a wide range of analytical devices are maintained for use by NMSU researchers.  These include:
Dionex ICS-2100 Ion Chromatograph (IC);

Elan DRC-e PerkinElmer Inductively Coupled Plasma with Mass Spectrometry (ICP/MS) with Perkin Elmer Series 200 High-Performance Liquid Chromatography (HPLC) with UV Detection;

Agilent 7890 and Agilent 5975C Gas Chromatography with Mass Spectrometry (GC/MS); Agilent 7693 autosampler GC/MS system, including:

Agilent Gas Chromatograph (GC) 7890A;

Agilent Mass Spectrometer (MS) 5975C; and Pfeiffer vacuum pump, Model DUO 2.5;

Agilent 7693 autosampler GC/MS system, including: Agilent Gas Chromatograph (GC) 7890A; Agilent Mass Spectrometer (MS) 5975C; and Pfeiffer vacuum pump, Model DUO 2.5;

Multiwave 3000 Microwave Reaction System;

Micromeritics ASAP 2050 Pressure Sorption Analysis; '

Shimadzu TOC-Vcsh Total Organic Carbon Analysis (TOC); and Direct Q3 water purification system. 
In addition to the aforementioned items, CHME was gifted a scanning electron microscope that is being removed from storage and will be installed in Jett Hall later this year.
These devices will permit NMSBrew to assist the brewing industry to develop a deep characterization of all aspects of the brewing process through as beer profiling, raw material imaging, hop oil profiling, aroma correlations, alpha acids, beta acids, dry matter, moisture, hop storage index, as well as the development of new methods of analysis.
Consortium membership dues will fund a full-time brewmaster and lab manager in NMSBrew to assure your samples are handled properly and the analysis results certifiable.
---
NMSBrew International Brewery Studies

 

in CHME @ NMSU
NMSU Chemical & Materials Engineering faculty working in conjunction with the NMSU International & Border Programs is designing a course sequence that will take students around the globe to study the history of brewing.  Consortium members will be able to register for these courses.  Planning is preliminary, but current scheduling includes a study of breweries as follows:
2018:    England/Ireland (complete)
2020:    Belgium/Netherlands
 
---
NMSBrew Personnel

in CHME @ NMSU
Director
Instructors
---
NMSBrew Directors 

beyond

 CHME @ NMSU
The Brewery Engineering Program is seeking collaborative relationships with individuals having expertise across all sectors of a brewing operation, from farm to table.  At this time, the following individuals have made a commitment to participate in this endeavor and are recognized as Affiliated Faculty:
Tim Kostelecky – Hops & Brewing Technical Specialist
https://www.linkedin.com/in/tim-kostelecky/

Lance Lusk – MS Biochemistry; BS Biology
Principal Scientist, Foam and Flavor for Miller Brewing Company (30 years)
https://www.linkedin.com/in/lance-lusk-82bb1442/
Gerald T. Grandle – Owner, Head Brewer, Brewery Designer;  Spotted Dog Brewery, LLC; Mesilla, NM
Lindsay Barr (2018), Sensory Specialist, New Belgium Brewing Co. and Co-founder, DraughtLab Sensory Software
https://www.linkedin.com/in/lindsay-barr-ms-9151452b/
John Gozigian (2018) Executive Director, New Mexico Brewers Guild and Co-founder, Marble Brewery, Inc.
Gabe Jensen (2018) Co-founder/Managing Director – Bosque Brewing Co. 
John Wright (2018), Icebox Brewing Co.
---
Media
---
NMSBrew Sensory Events
Submit your Form
NMSBrew Promotional Trifold