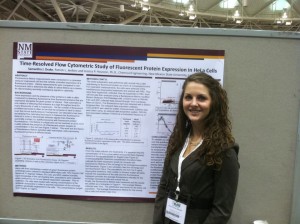 Samantha J. Drake (BSCHE 2012) presents her undergraduate research project at AICHE 2011 in Minneapolis, MN.
CHME undergraduates may obtain CHME Elective credit for research performed as an undergraduate through CHME 498 (see syllabus for details).
CHME undergraduate students interested in participating in a laboratory research project are encouraged to interview members of the faculty with ongoing research of interest to the students, and work with that professor to identify and define an appropriate project for the student.
Before registering for CHME 498, the project objectives and deliverables should be clearly stated in writing by the CHME professor in the form of a memo to the student's file.