Advanced Placement Credit
Students transferring courses to NMSU should request the registrar at the institution where the course was completed send official transcripts to the NMSU registrar.  Questions concerning course equivalency can be answered through the NMSU Transfer Equivalency Guide.
Transfer Courses to the BSCHE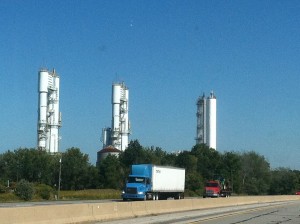 Cryogenic air distillation columns provide oxygen to the blast furnaces of the steel mills along I-94 near Gary, Indiana.
Transfer credit towards 

core courses

 

(defined by the NMSU College of Engineering to be "required departmental, discipline-related courses within the major")

 in the BSCHE must be similar in both (1) content covered and (2) prerequisite requirements.  

The transfer course must be a component of an ABET-accredited chemical engineering program.  

Examinations in the transfer course must be proctored.  

Approval must be obtained from the CHME Department Head in writing BEFORE enrolling in the course.
To formally request approval to transfer a core course from another institution, the student must complete the Engineering Transfer Course Request Form.
In addition to these requirements, the course must conform to the transfer course policy of the NMSU College of Engineering.
Upon completion of the course at another institution, student should have transcripts sent from that institution directly to NMSU's Office of the Registrar.